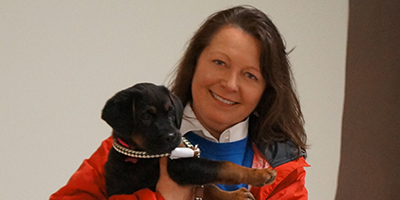 Linda Kolva
Owner / Manager
Education: Harcum Jr College, Associate in Science, Certified Veterinary Tech.
Hobbies: Paddle Boarding, Nature Walks, Exploring the Outdoors
Favorite Dog Breed: Labrador Retrievers
Pets: 2 dogs - Summer & Blackjack, 2 cats - Oreo & Trixsey, 1 bird - Cinnamon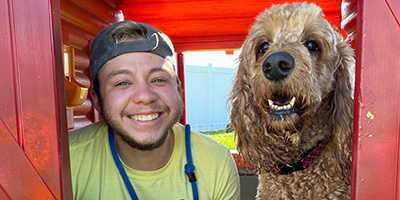 Ryan Santiago
Daycare Director / Photographer / Social Media Coordinator / Kamp Counselor
Education: Delaware Valley University - Small Animal Science
Hobbies: Hiking, TV, Hacky Sack
Favorite Dog Breed: Corgis
Pets: Max - Dog, Ruby - Cat, Deliliah & Pearl - Bunnies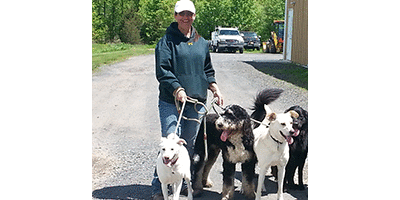 Virginia Ahlers
Training Coordinator
Education: Cornell University, Bachelor of Science, IACP-CDT
Hobbies: Spending time with my Husband, Horseback Riding, Playing with my dogs, Aikido, Swing Dancing and Music
Favorite Dog Breed: All of them!
Pets: Zion & Takoda - Dogs, Prima - Horse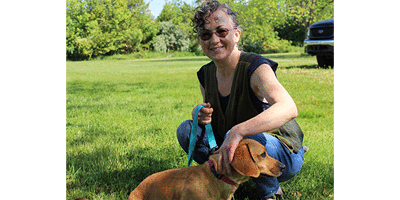 Myrna Coleman
Reservation Specialist
Education: Landsdale School of Cosmetology, Hunterdon Tech School for Skin Care - Licensed in PA & NJ, Certified Reflexologist
Hobbies: Hiking, Bike Riding, Walking my dog, Studying nutrition, Cuddling my dog
Favorite dog breed: I love them all and their personalities!
Pets: 1 dog - Tiki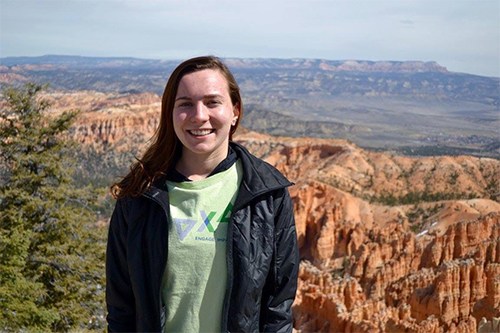 Kiana Kolva
Kamp Counselor
Education: certified EMT, attending George Washington University
Hobbies: Soccer, EMT Volunteer, Hiking, Snowboarding, Wakeboarding, Dog Sledding
Favorite Dog Breed: Nova Scotia Ducks Rolling Retriever
Pets: 2 Dogs - Summer & Black Jack, 2 Cats - Oreo & Trixsey, 1 Bird - Cinnamon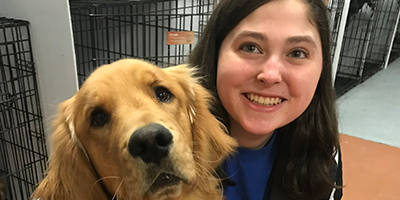 Rachel Barr
Kennel Attendant
Education: Liberty University - Biomedical Sciences
Hobbies: Kayaking, Hiking, Playing the Ukulele
Favorite Dog Breeds: Pit Bulls
Pets: Sir Oreo Cookie Dough the Cat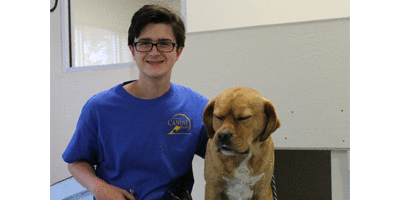 Nicholas Novack
Kamp Counselor
Central Bucks East
Hobbies: Soccer, tennis, photography, and baking
Favorite Dog Breed: All of them
Pets: Foster - Dog
Danielle Justice
Education: Pennridge HS & Upper Bucks Technical School
Hobbies: Hiking
Favorite Dog Breed: Australian Shepherd
Emily Minnichbach
Kennel Attendant / Bather
Education: Quakertown HS, Upper Bucks Technical School
Hobbies: Barrel Racing, Hiking
Favorite Dog Breed: Anything Hyper Active
Pets: Maxwell & Duke - Dogs, Spirit & Misty - Cats, Buddy Elmer Woody & Sawyer - Horses
Mckenna Maguire
Education: Pennridge HS
Hobbies: Graphic Design, Adventuring with friends, Kayaking
Favorite Dog Breed: Bull Terriers
Pets: Sawyer & Jinx - Dogs, Ghost & Shaolin - Cats