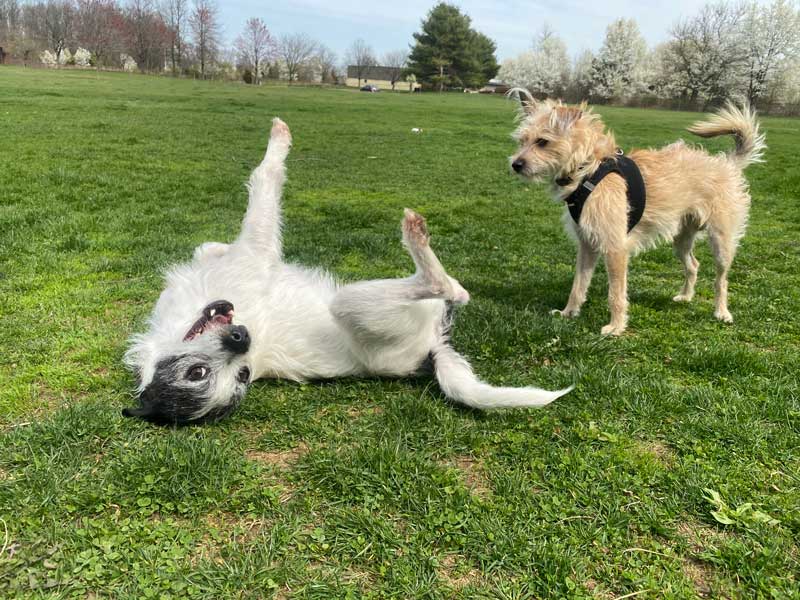 Bedminster Canine Kamp provides a full day of supervised play and necessary rest time for your dog. Each guest will undergo an evaluation to determine their unique temperament to ensure the safety of your pet, as well as our other campers. Each Camper's day is customized to meet their individual preferences for their maximum enjoyment. As their preferences change, we adjust their activities. We require all dogs to come for an evaluation prior to joining our daycare groups. Call today to schedule an evaluation!
Our Daycare provides individual care for all types of dogs, from the social dog that loves everyone, to the shy one that prefers cuddles and one-on- one walks with our friendly Kamp Counselors. We have multiple areas for our campers to play and explore. The larger groups romp, play and splash in our graveled courtyard with secure 6 foot PVC fencing, while the dogs that prefer to run, play ball, or dig in our sandbox, go out to our 2 acre grass yard with chain-link fencing. Some dogs prefer to go for quiet one-on-one nature walks around our pond and grounds. We also have an indoor playroom for those rainy or extreme weather days. Our Campers rotate their time between walks, playing, resting, bathroom breaks and snack or lunch time. Some may also receive training or grooming during their stay.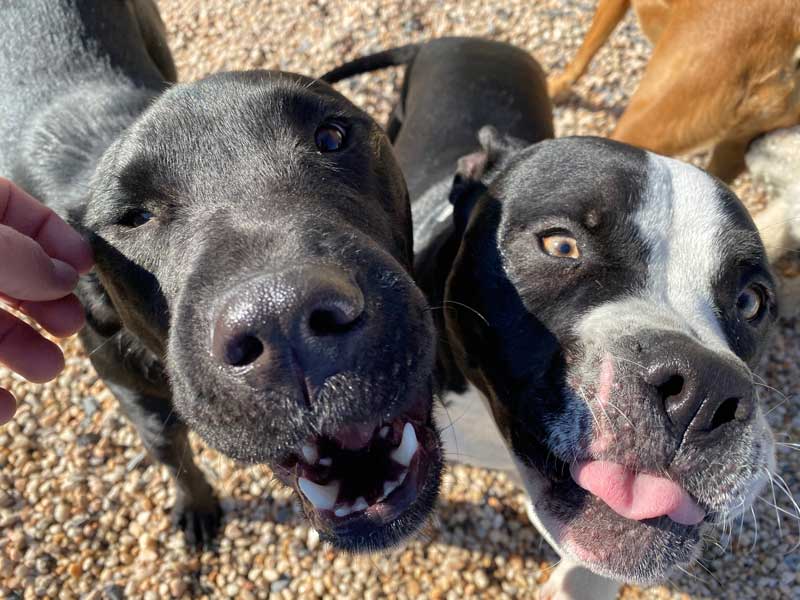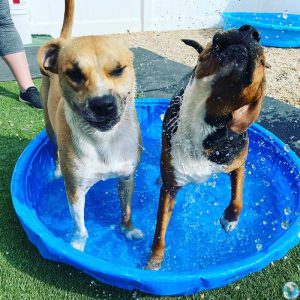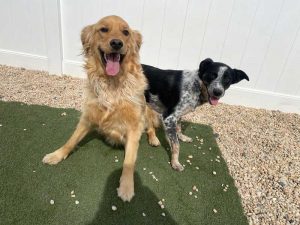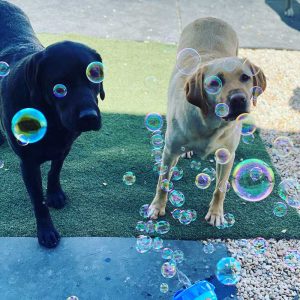 DAYCARE STRUCTURE AND IMPORTANCE OF EVALUATIONS
In formulating groups for daycare, we have observed there are
varying energy levels and styles of play. Our groups are based on these similarities
with a diversity in age and size. This ensures your dog will have a safe and
fun place to socialize with dogs who have a similar play style. Our staff is
trained to look for body language indicating mutually enjoyed play with another
dog or to spot if a dog becomes unsure and/or anxious.
Each group is out for an average of 45 minutes at a time,
twice a day with rest time in between. We really believe that rest time is
essential for our daycare dogs. A dog's group time is similar to us going to
the gym. There is a lot of energy expelled in a short amount of time. During
rest time, dogs can relax in a calm environment. This reduces overstimulation
or any chance for serious injuries due to prolonged group play.
Some kampers start their day early or end late. Additional
outings for potty and/or training are scheduled between rest and play. We also
offer lunch/snacks for those that need it.
With such diversity in groups, we use daycare
evaluations to determine which group(s) your dog is best suited to join. When
your dog arrives for their evaluation, our staff will assess his or her play
style by introducing them to one of our established daycare dogs.
If the evaluation is successful, we may introduce them to one of our
groups on the same day as the evaluation. To know an evaluation is
successful, the dog must show interest in playing or being social with the
other dogs. If we see that dog actively playing and being social, we can
determine which group they may be suited for. Once your dog has passed the
evaluation, we will discuss and formulate a weekly schedule for them.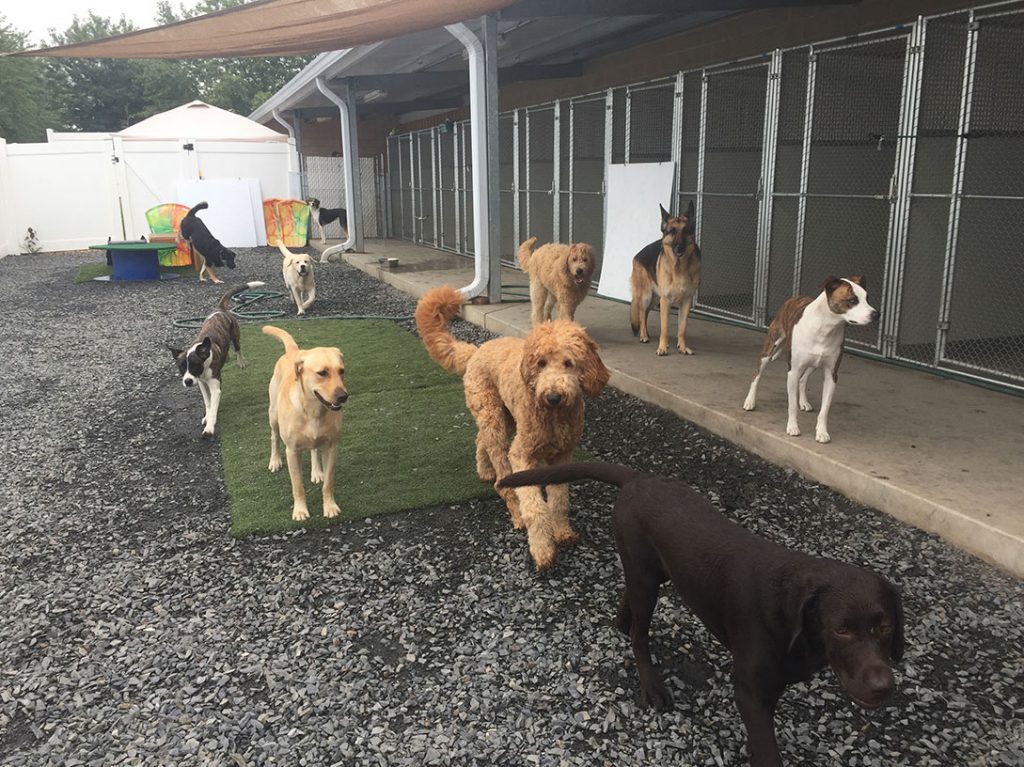 Daycare Services:
Group Play with fun climbing obstacles and puppy pools to enjoy
Cuddle and petting time with Kamp Counselors
Enrichment games and puzzles
Ball or Frisbee play
Nature Walks
Rest Time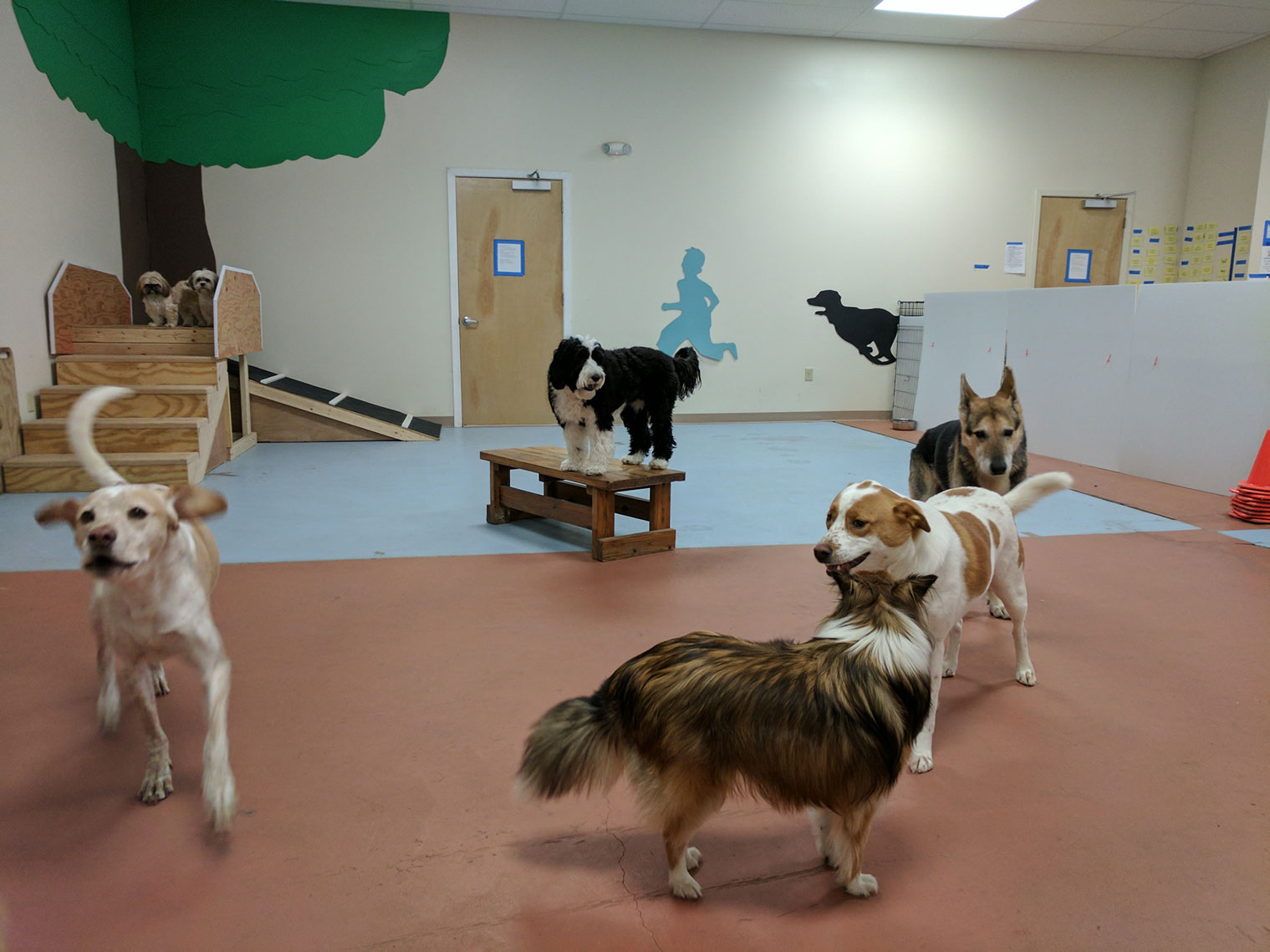 RATES
Half Day
7am-1pm & 11am-6pm
$27
Full Day
$35
3 days ( multiple day discount! )
$102
4 days ( multiple day discount! )
$136
5 days ( multiple day discount! )
$170
6 days ( multiple day discount! )
$204
Nail Trim - special rate for Daykampers
$9.50
Please call to set up a time to tour facility and discuss your needs.
Daycare hours are M-F 7AM – 6PM and Saturday 8AM – 4:30PM.
Day Care Hours
Mon - Fri
7:00 - 6:00
Sat
8:00 - 4:30